Tel: 01189745446
email: info@metafence.co.uk

find us on facebook
Contact Us!
Fencing | Ultra Steel Palisade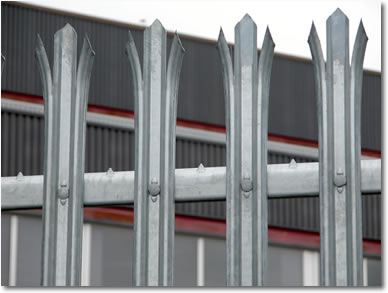 Metafence offers an Ultra Steel Palisade System that is at the leading edge of steel palisade technology, resulting from extensive research and testing. The cold rolled "Ultra" pales, rails and posts create an exceptional strong security fence with an attractive look that is lacking from other systems.
The Ultra Steel Palisade System is assembled on site quickly and easily, following the gradient of the ground, eliminating vulnerable gaps at ground level left by some mesh and rigid panel systems.
Typical applications
Industrial and commercial sites
Electrical / gas water installations
Defence installations
School and campuses (round and notched pale top preferred)
Benefits
Stronger than traditional steel palisade systems
Greater protection against intruders and vandals
A range of choices, an adaptable system to suit all situations
Lightweight offers cost savings on labour and transport
Low maintenance
Standard Ultra Steel Palisade System
Ultra Pale
Specifiers and users can safely rely on the System offered by Metafence, the Ultra Pale's unique profile and its patented bolt head protection system that make it superior over conventional pale. The edges of the deep double curvature are finished with a neat Dutch bead, which not only provides further strength along the length of the pale, but makes it ideal for safe use where children may come into contact with the fence. There is a choice of Ultra Pale heads to suit all requirements; on installations around schools or parks we would strongly recommend the round or round and notched tops.
Ultra Rail
The unique and aesthetic design of the Ultra Rail, linked to the inherent strength of the profile, offers many advantages over the traditional RSA (angle iron) rails including:
Significant reduction in foothold area discouraging attempts at climbing
The top anti-grab tags add a further unique deterrent
Reduced sag eliminating the need for 'anti-sag legs'
Reduced risk of tampering with fixings
Ultra RSJ Posts
Developed using cold steel technology the Ultra RSJ Post used with the system is a unique lightweight post that is stronger than traditionally used 102 x 44 mm hot RSJ. Designed to appear as a standard post and slotted to fit standard fishplates the post offers several advantages including:
Pierced bottom of posts to key in to concrete
Lightweight construction for ease of handling without loss of strength
Reduced transportation and handling costs
Please contact us for further information.