Tel: 01189745446
email: info@metafence.co.uk

find us on facebook
Contact Us!
Fencing | Pro Sport Mesh System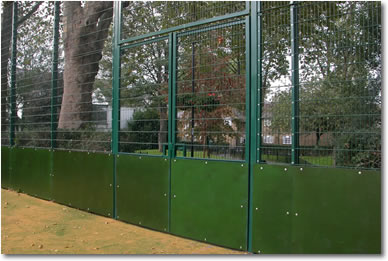 Multi purpose sports enclosures
The Metafence Pro Sport Mesh System is derived from the highly successful and durable Pro Mesh Flat system and gives three main optional finishes to the bottom of the mesh. Twin horizontal wires ensure that the system is especially suited to high impact situations such as ball courts or school playgrounds. Efficient manufacturing processes ensure that the system is long lasting at an affordable cost.
The system is supplied in fully welded panels, allowing quick and simple installation. The Pro Sport Mesh System offered by Metafence may be installed up to 5.0 metres in height, making it an ideal and safe enclosure for multi purpose games areas favoured by Local Authorities and schools. Full-length clamp strips give a safe, secure and vandal resistant fixing.
Typical applications
Multi use sports areas
Single use sports areas / tennis courts
Parks and recreation areas
School and campuses
Benefits
Strong and reliable security
Ideal for sports areas and other high impact applications
A range of heights up to 5.0 metres
Versatile bottom option
Attractive appearance
Vandal resistant
Quick and simple installation
Cost effective
Low maintenance
Standard System
Pro Sport Mesh panels
The Pro Sport Mesh panels have a mesh size of 200 x 50 mm, formed with 6 mm vertical and double 8 mm diameter horizontal wires, fully welded at every intersection.
Pro Sport Mesh System posts
The Pro Sport Mesh posts range from 60 x 40 to 120 x 60 mm square hollow section with plastic cap based on fence height. A full-length 40 mm wide clap strip with M8 stainless steel security head bolts, ensure a safe, secure anti-vandal fixing.
Optional Base Panels to the Systems Offered by Metafence
The Pro Sport Mesh Rebound
The bottom 1208 mm of the Pro Sport Mesh Rebound System has extra double 8 mm horizontal wires giving a very durable and robust 50 x 65 mm mesh size. The lower section of this system is not only hard wearing but offers a good 'safe by design' choice to eradicate hiding places.
The Pro Sport Mesh Rebound Board
The bottom of the Pro Sport Mesh Rebound Board system has a special 1220 deep timber panel fixed to the posts, with Pro Sport Mesh above. The combination of the special timber panel and welded mesh, gives a tough hardwearing surface that is suitable for any ball game.
Metafence Gates
Metafence offer gates of all sizes and configuration that are manufactured to the highest standards and maintain the site security offered by the fences. Swing, sliding cantilever, and bi-folding gates are offered for manual use or automated by the specialist department of Metafence. The Gate Automation Department can offer a high quality and reliable 'Speed Gate'.
Technical / installation
Standard heights: 1030, 1830, 2030, 2430, 2860, 3060, 3460, 4060, 4460 & 4860 mm.
Pro Sport Mesh System can be manufactured upon request to suit projects requiring:
Bolting down
Wall mounting
Burying
Additional security toppings
Please contact us for further information.