Tel: 01189745446
email: info@metafence.co.uk

find us on facebook
Contact Us!
Commercial Gates & Automation | Bi-Fold Speed Gates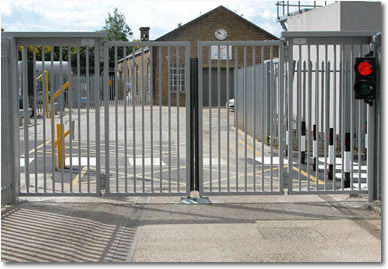 Automatic Bi-fold trackless Speed gates are the ideal solution where speed of opening and closing is essential or where space is at a premium.  This type of installation will typically open at more than twice the speed of traditional swinging gates of the same size, ensuring a fast throughput of traffic, while maintaining the security of the site.
Our Automatic Bi-fold trackless Speed gates are safety compliant to current HSE directive.
The Bi-folding gates utilise a PLC controlled, inverter driven high duty motor powering a worm and wheel gearbox.  A direct-drive shaft connected to the gate leaf ensures a smooth and positive movement with a rated 100% duty cycle i.e. continuous operation.
The gates may be of a standard vertical bar construction or a bespoke style to match existing boundary fencing systems.
Automatic Bi-fold trackless Speed gates supplied by Metafence are CE marked as being fully compliant with current legislation and Safety Force tested.
All of our automated products can utilise existing site access control systems or a purpose designed system to suit your exact requirements, whether it be a simple hand held transmitter, intercom communication or a more complex pc managed access control system.
Specification
: CE approved
Dimensions 
: Single unit - max width 3.5m, height 3.0m
Bi-parting pair - max width 7.0m, Max height 3.0m
Power
: Single phase 240Volt 50Hz 10 amp
Max. Span
: 7 Metres drive through (8 Metres overall)
Max. Height
: 3.0 Metres
Operation Time
: 3 - 6 seconds (dependant on version), 100% duty cycle
Finish
: Zinc plated and polyester
Please contact us for further information.