Tel: 01189745446
email: info@metafence.co.uk

find us on facebook
Contact Us!
Fencing | RX & DX Security Railing Systems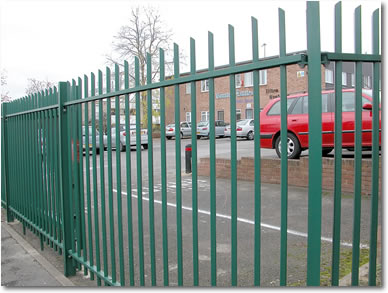 Metafence RX & DX Security Railing Systems provide a strong and aesthetically pleasing perimeter fence suited to all locations. Efficient manufacturing processes ensure that the railings are long lasting at an affordable cost.
The systems are supplied in fully welded panels allowing quick and simple installation. Special cleats give greater flexibility where ground conditions require the stepping of panels.
Typical applications
Industrial and commercial sites
Parks and recreation areas
School and campuses
Benefits
Strong and reliable security
Attractive appearance
Vandal resistant
Quick and simple installation
A range of additional features
Cost effective
Low maintenance
DX Railing System
SQUARE hollow-section verticals and heavy-duty channel horizontal rails form robust welded panels with either square or angle cut tops as standard. The panels are secured to between RSJ posts with special angle cleats, anti-vandal domed head bolts and Permacone security nuts, ensuring secure and safe fixings.
RX Railing System
CIRCULAR hollow-section verticals and flat horizontal rails offer an economical alternative, perfect for applications where budget is restricted. Metafence incorporates the same RSJ posts and fittings in the RX Railing Systems the DX Railing System, ensuring that there is no compromise on security.
Metafence Gates
Metafence gates of all sizes and configuration are manufactured to the highest standards and maintain the site security offered by the fences. Swing, sliding cantilever, and bi-folding gates are offered for manual use or automated by the specialist department of Metafence. The Gate Automation Department can offer a high quality and reliable 'Speed Gate'.
Options to top of Railing Systems offered by Metafence
Supreme
Maintaining the superior features offered by both DX and RX Railing Systems, the addition of Supreme heads creates an appealing Traditional appearance to either system.
Trojan
Specifiers / users can safely rely on the addition of Trojan heads to protect high-risk areas. The square / circular vertical sections and posts, of either system, are extended and cranked; offering a heightened level of defence against any would be intruder.
Tornado
Tornado heads add a clearly visible attractive deterrent without compromising the exceptional level of security achieved with either of the systems. The three dimensional spear is formed, during manufacture, in the actual vertical infill bars, offering several advantages over the addition of separate finial head (as used with traditional railings) Tornado heads are currently available only with the DX Railing system.
Technical / installation
Standard heights: 1800, 2000, 2100, 2400, 3000 and 3600 mm.

Metafence are able to offer non-standard heights that can be manufactured to order.
DX and RX Railing System can be manufactured upon request to suit projects requiring:
Bolting down
Wall mounting
Burying
Additional security toppings
DX and RX Railing System may be finished in:
Hot dipped galvanised to BS EN ISO 1461:1999
Hot dipped galvanised to BS EN ISO 1461:1999 and Polyester Powder Coated to BS 1722 Part 16:1992
Polyester Powder Coated to BS 1722 Part 16:1992
Polyester Powder coating may be any RAL colour, the standard being black (RAL 9005) and green (RAL 6005)
Please note:
If specified, Metafence can offer CHS (channel) rails to be supplied with the RX system in place of the RSF (flat) supplied as standard. RHS (box section) posts can be supplied with either system in place of the RSJ type posts supplied as standard and a third horizontal rail can be added, to either system, allowing the fence to closely match any existing alternate railing system.
Please contact us for further information.