Tel: 01189745446
email: info@metafence.co.uk

find us on facebook
Contact Us!
Domestic Gate Automation | Sliding Gates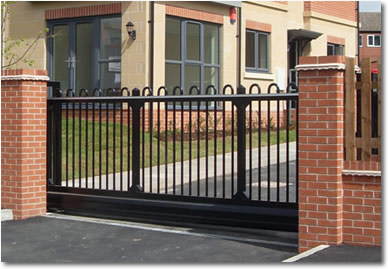 Cantilever Gates
The Metafence Cantilever Gate serves a domestic purpose as well as their more popular commercial use, providing the customer with an efficient and effective sliding gate.
The major advantage with the Cantilever gate is they do not need a track across the driveway or wheels in contact with the ground, therefore they can be installed on uneven or sloping surfaces with less maintenance required.
Cantilevered sliding gates utilise tandem wheel rollers to guide travel across entrance ways. The rollers are hidden within the bottom beam of the gate, protecting them from the elements and making this system very reliable and cost effective.
Tracked Gates
Tracked Sliding gates are designed to run on tracks that are either sunk into the road surface or externally fixed above the surface. Tracked sliding gates are available in both automatic and manual options.
This system is ideal when there is a limitation of run back area available.
Both systems are available in many different bespoke designs, shapes, sizes, and colours to match the customers requirements, the security of the property being an important consideration.
All of our automated products can utilise existing access control systems or a purpose designed system to suit your exact requirements, whether it be a simple hand held transmitter or a more complex pc managed access.
Please contact us for further information.