Tel: 01189745446
email: info@metafence.co.uk

find us on facebook
Contact Us!
Access Control | Keypad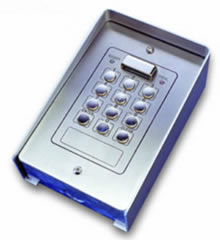 Metafence offer a keypad access control that has a robust design, smart appearance, and an effective access procedure. They provide the customer with the benefit of having an unmanned system.
A vandal resistant casing and weather shield protect from the environment and misuse.
Keypad is illuminated for night time use.
LED display confirms acceptance of the correct code.
Two separate relays allow a pulse contact with one code and a latched contact with another code, thus permitting a 'hold open' command.
Digit keypads are available as stand alone units or built into both audio and video intercom systems.
Please contact us for further information.