Tel: 01189745446
email: info@metafence.co.uk

find us on facebook
Contact Us!
Domestic Gate Automation | Wooden Gates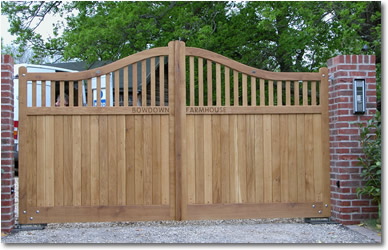 Metafence Wooden swing gates can be manufactured bespoke in all types of wood to suit budget, long term reliability and an existing gap.
wooden gates are sometimes chosen to keep the appearance of a property or simply to obscure vision allowing a higher level of privacy.
The natural look and feel of wood helps create a unique and personal appearance and can be stained in almost any colour.
All Automatic Swing Gates are manufactured bespoke to suit the aperture to be controlled and can be automated by means of installing:
Below ground Hydraulic or Electro Mechanical Operators
Above ground Hydraulic or Electro Mechanical Operators
All specifically designed to suit the usage requirements from light domestic to heavy intensive use sites.
All of our automated products can utilise existing site access control systems or a purpose designed system to suit your exact requirements, whether it be a simple hand held transmitter or a more complex pc managed access control system.
Please contact us for further information.