Tel: 01189745446
email: info@metafence.co.uk

find us on facebook
Contact Us!
Site Hoardings & Temporary Works
- Timber and Metal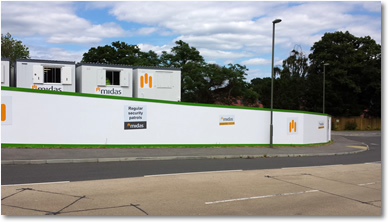 Metafence offers an extensive range of hoarding from timber through to solid steel hoarding.
Timber Hoarding
Wooden hoardings provided by Metafence are an ideal way to secure your construction site or vacant property. Building site hoardings are an important device to not only conceal and increase security on your site, but also to protect the public from the building works and hazards going on within the area.

Our most popular construction site hoardings consist of wooden boards to the face of a wooden post and rail frame strongly set in concrete. These site hoardings create a solid and strong barrier between the construction zone and the public, ensuring peace of mind for any constructor.

We can provide temporary hoardings to increase security around your vacant property, screening the area from prying eyes and reducing the temptation to vandals.. A selection of anti climb products may also be applied to the site hoardings, providing additional protection against intruders to your site.

Our property hoardings can be painted to any colour of your choice, maintaining corporate identity through your company colours or to blend in with the surrounding landscape Site hoardings are not only restricted to building and construction sites, temporary hoardings are also a useful tool to create secure areas during a festival or country event. Unlike temporary mesh fencing, temporary hoardings may be used as a screening material, such as to conceal waste collection areas.
Metal Hoarding & Temporary Mesh
Metafence are also able to provide a range of temporary metal hoardings and temporary mesh fences. These temporary steel fence panels provide an alternative to wooden hoarding, and are a re-useable cost effective alternative.
All systems can be provided in a free standing option so no digging or ground penetration is required.
Gates for Hoarding & Temporary Installations
Vehicle gates and pedestrian entrance gates to match the timber hoarding and temporary mesh fencing are available in either timber framed or steel framed.
Access Solutions for Hoarding
Our in-house automation team can also provide a range of temporary controlled access solutions including rising arm barriers and turnstiles giving you complete control of vehicle and personnel access and exit to the site.
Installation for Hoarding and Temporary Works
Whatever your hoarding and temporary works requirements, the expert team at Metafence are able to provide and install a solution to suit. Our skilled installation teams can swiftly erect and remove the hoarding and temporary wire mesh systems to ensure your site remains safe and secure at all times.
Please contact us for further information.