Tel: 01189745446
email: info@metafence.co.uk

find us on facebook
Contact Us!
Access Control | Proximity Card/Fob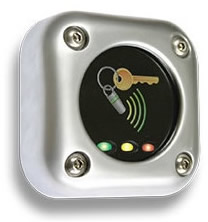 When a card/fob is presented to a reader, the reader sends the secure information to a control panel. The control panel compares the presented card information to an access control list and grants or denies the presented request.
If there is a match between the authorised card/fob and the access control list, the control panel operates a relay that in turn activates the gate or barrier .
Metafence can provide Proximity card/fob systems to suit any number of Authorised users from a small 50 user standalone unit to a fully functional database controlled multi site system.
Please contact us for further information.