Tel: 01189745446
email: info@metafence.co.uk

find us on facebook
Contact Us!
Access Control | Intercom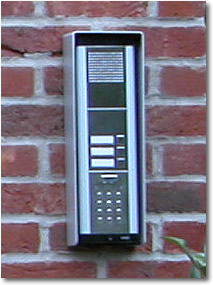 Intercoms provide a fast and effective communicational system both internally and externally with a increasing amount of systems to choose from that have many different features and set up options to suit your needs and wants.
The systems that we supply and fit include;
GSM wireless systems
The Diracom GSM will call your existing phone system, allowing you to speak with the caller and operate automated doors and gates from your current telephone handset.
The system is completely wireless. There is no cabling between the entrance and the building and no cabling or additional intercom handsets within the building. The system is simply uploaded with your desired phone number/s, installed at the entrance and switched on.
Up to six separate telephone numbers can be called making the system useful for entrances serving multiple properties or allowing a single user to have the system call landline numbers at home or work, or a mobile number wherever you may be. In all cases the telephone that receives the call can be used to operate the gate/door from any location.
Why Wireless?
No excavations
No cables
No disturbance of your property
No holes in your Walls
Choose the position of your unit with ease and freedom
The system calls your existing phone lines
PND 345 intercom
The system utilises a standard BT type public telephone trunk line and existing telephones to avoid the need for new handsets and cabling to each apartment phone. The visitor simply selects the residents name from the built in electronic directory and presses call.
The resident can allow or deny access by use of their standard telephone handset. Additionally residents can have a pass code or an access control token with support for this integrated into the unit. Multiple entrances are easily catered for.
345 Member Electronic Directory
Super Blue Display
Vandal Resistant Stainless Steel Construction
Flush Mounting
Integrated Coded Keypad
Integrated Proximity Access Control
GSM Compatible
Remote Dial-up programming
2 Spare Relays
The PDN345 saves time and cabling while giving maximum value and convenience for any end-user.
DIRACOM Digital wireless intercom
A high quality wire free digital intercom. This system uses high quality apartment to ensure a clear sound quality over a 100-150m range.
This system uses Siemens digital telephone handsets and proven telecom technology allows the Diracom to offer the best wireless intercom available.
Telephone Intercoms
An intercom at the entrance linked with an existing telecom system.
Suitable for long driveways and separate buildings serviced by a common entrance, apartment buildings requiring retro-fit intercom systems and for controlling access from anywhere your phone works.
The Telguard system dispenses with the need for cabling between the entrance and the buildings by utilising the existing telecom network.
For long cable runs and apartment blocks this is a time and money saver. No work is required within any number of separate dwellings or offices and no maintenance is required.
A BT line is required at the entrance and all communication from the intercom system is channelled to existing telephones within any number of properties.
This system can be operated by telephone or cell phone allowing control of access from anywhere in the world. The entrance panel can also be used as a digital entry pad.
Video Intercom
These intercoms have many optinos and packages that allows the customer to purchase exactly what they need with their communication access control system. The video intercom allows the tennants to see who is waiting outside the premises and video intercoms with memory boards can store up to 32 video frames, including the time and date stamp.
they can be provided in black and white or colour screens and with all the various options and upgrades to suit your needs.
Please contact us for further information.