Tel: 01189745446
email: info@metafence.co.uk

find us on facebook
Contact Us!
Fencing | Pencil Fencing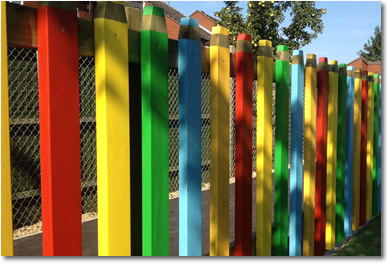 The very attractive Pencil Style Fencing is being used more and more around play areas, school and park boundaries.
Metafence is pleased to offer a competitive bespoke system, designed to meet a client's requirements, yet manufactured and installed in a very reasonable time period.
The timber is cut, machined and pressure impregnated with Tanalith E before the pales receive there final colours.  Post size and centres along with rail size and numbers are all dependent on upon the design brief.
Metafence also offer matching single and double leaf gates.
Please contact us for further information.