Tel: 01189745446
email: info@metafence.co.uk

find us on facebook
Contact Us!
Domestic Gate Automation | Ornate Steel Swing Gates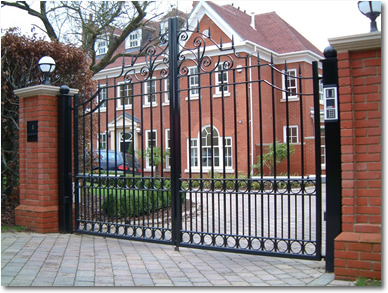 We offer an extensive range of ornate steel swing gates to suit any design relating to your homes individual style.
All Automatic Swing Gates are manufactured bespoke to suit the aperture to be controlled and can be automated by means of installing:
Below ground Hydraulic or Electro Mechanical Operators
Above ground Hydraulic or Electro Mechanical Operators
All specifically designed to suit the usage requirements from light domestic to heavy intensive use sites.
Metafence is able to offer a variety of finishes to both Automated and Manual Swing Gates and are always pleased to discuss these options.
All of our automated products can utilise existing site access control systems or a purpose designed system to suit your exact requirements, whether it be a simple hand held transmitter or a more complex pc managed access control system.
Please contact us for further information.