Tel: 01189745446
email: info@metafence.co.uk

find us on facebook
Contact Us!
Fencing | Extreme Mesh System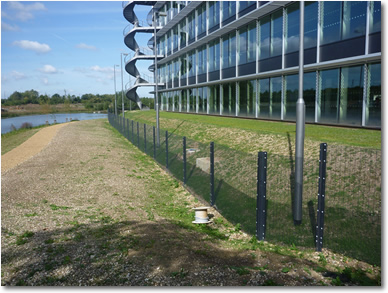 The Extreme System supplied and installed by Metafence, provides the ultimate in high security perimeter protection whilst maintaining the most discreet visual impact on its surroundings. The close mesh aperture is finger and toe proof, and extremely difficult to penetrate using hand tools. The anti-climb / anti-cut system is ideally suited to applications where protection or containment is of paramount importance.

The Extreme System offered by Metafence, is supplied in fully welded panels allowing quick and simple installation. The Extreme Panels can be installed up to 5.2 m in height and its full length clamping strips give a secure and vandal resistant fixing.

Typical applications
· Industrial and commercial sites
· Airports, railways, schools, local authorities
· Public utilities, military
· Secure units & prisons

Benefits
· Unsurpassed welded mesh panel security
· A range of heights up to 5.2 metres
· Anti-climb, anti-cut
· Attractive appearance
· Vandal resistant
· Quick and simple installation
· Cost effective
· Low maintenance
Standard System

Extreme Mesh panels
The Extreme panels have a mesh size of 76.2 x 12.7 mm formed from 4 mm vertical and horizontal wires welded at every intersection.


Extreme posts
The Extreme posts range from 50 x 50 to 120 x 60 rolled hollow section (RHS) with plastic caps based on fence height. A full-length 40 mm wide clamp strip with M8 cup square bolt and Permacone nuts at 300 mm (approx) vertical centres, ensure a secure anti-vandal fixing.
(Fig. 2 Extreme clamp strip)

Metafence Gates
Gates of all sizes and configuration are manufactured to the highest standards and maintain the site security offered by the fences. Swing, sliding cantilever and bi-folding gates are offered for manual use or automated by the specialist department of Metafence. The Gate Automation Department can offer a high quality and reliable 'Speed Gate'.

Technical / installation

Standard heights: 1800 mm, 2100 mm, 2400 mm, 3000 mm, 4200 mm, 4800 mm and 5200 mm.

The Extreme System can be manufactured upon request to suit projects requiring:
· Bolting down
· Wall mounting
· Burying
· Additional security toppings
Please contact us for further information.