Tel: 01189745446
email: info@metafence.co.uk

find us on facebook
Contact Us!
Commercial Gates & Automation | Automatic Rising Bollards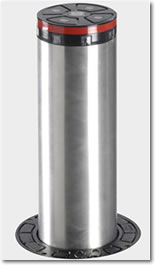 Automatic Rising Bollards provide the perfect solution for prevention of unwanted vehicle access in both manned and unmanned areas. The Automatic Rising Bollard System is ideal for ultra high security sites such as MOD, Pharmaceutical, research facilities, secure manufacturing units, prisons and utility companies.
Metafence is able to offer both the very cost effective electro mechanical and hydraulic versions designed for intensive use.
The Automatic Rising Bollards are available with raise height of up to 700 mm and are complete with led warning lights.
All of our automated products can utilise existing site access control systems or a purpose designed system to suit your exact requirements, whether it be a simple hand held transmitter, intercom communication or a more complex pc managed access control system.
Please contact us for further information.